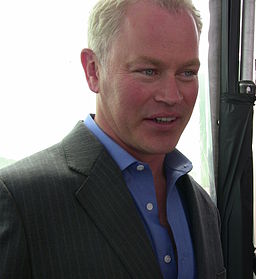 Growing up, many of us have heard the old expression from W.E. Hickson that said, "If at first you don't succeed, try, try, try again."  Well, that is exactly what television and movie star Neal McDonough has done.  McDonough just relisted his property for sale in Hancock Park District, which is located in Los Angeles, Calif.   The original asking price was $2.899 million, however, this time him and his wife are asking about $250,000 less.
In 2005, McDonough and his wife, Ruve, paid $2.65 million for this gorgeous home.  It was built in 1922 with a Southern Colonial style.  Inside, it has just over 4,000 square feet with 5 beds and 3.5 baths.  With high ceilings and exquisite hardwood flooring, this house sets the perfect mood for a family or empty nesters.
However, the fun does not stop there.  It has a shaded patio area with wet bar, BBQ grill, spa tub and a large yard for the kiddos.
McDonough is best known for his role as Lieutenant Lynn "Buck" Compton in Band of Brothers.  He has also featured in Boomtown , Desperate Housewives and many more. His most recent role included Dum Dum Dugan on Marvel One-Shot: Agent Carter.
This photo is courtesy of Kristin Dos Santos at de.wikipedia [Public domain] via Wikimedia Commons at en.wikipedia and it is licensed under the Creative Commons Attribution 2.0 Generic license.