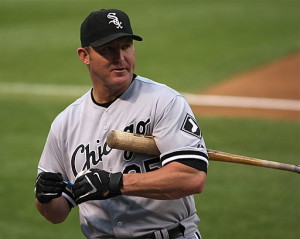 Jim Thome, the former Chicago White Sox slugger, just sold his mansion in Hinsdale, Ill. In January 2006, he purchased the 6,789 sq. ft. home. This was about six months after signing with Chicago from the Philadelphia Phillies. Thome originally listed the home for the exact amount he paid for it — $3.8 million.
Since the property was first listed in March of 2012, it saw two $300,000 price cuts. The final sale price was $2.6 million.
The stone-and-brick mansion was built in 2004. The property has four-stories with six bedrooms and eight bathrooms. It includes a master suite with his and hers private baths and a pair of walk-in closets.
This photo is courtesy of Keith Allison via Wikimedia Commons at en.wikipedia and it is licensed under the Creative Commons Attribution 2.0 Generic license.